BECOME THE PERSON
YOU WERE BORN TO BE
Awaken your unique energy by eliminating unseen and unspoken barriers to achieve your full potential.
Are You Choosing to Evolve?
In today's world, it is very easy to become distracted and disconnected which can drive our behaviors.
You want to know how to surrender or let go
You need more energy to finish the day
You are looking for support to connect with and to a bigger message
You are looking for guidance
You feel like you're missing an opportunity
You need a plan to get back on track and stay there
Amy Elizabeth assists in calling up the potential that lies dormant. Through the Energy Evolution process, clients are guided to elevate and transform their lives by peeling back the layers and dissolving what does not align with the present time. The shift is upon us NOW, it is time that we do things in a different way. Yet, sometimes guidance to go deeper is needed. The foundation of this approach is centered around the most important personal resource of all – your unique energy and how to direct it to achieve your ultimate success at work, home, and every part of your life.
Amy is an encouraging and effective guide, who works with people who want to take charge of their lives and their future, including business leaders, celebrities, and professional athletes. By claiming the wisdom of the authentic Self, Energy Evolution mentoring empowers clients to ascend to the next level of their career and life.
How You Benefit
Energy Evolution is a proven process that reawakens your individual design to live your potential.
Expand your abilities to reach your true potential, including:

Recognize what your journey is asking of you

Breakthrough and eliminate repetitive themes and patterns

Maximize peak performance with less effort through the use of ancient methods

Learn to modulate and focus your energy to attain the next level in your life and career

Increase communication skills and deepen relationships with others

Lead a happy, purpose-driven life by aligning with your unique design

Gain confidence that will inspire respect, and loyalty

Feel motivated by the energy that comes when aligned with your passion
Energy Evolution Approach
We all have a specific energy signature that evolves and is entirely unique to our personal and professional paths. Energy evolution has two components: energy and evolution. Energy is described as "the ability to do work." In essence, energy is what "allows all beings to change and to move". It is all-encompassing; it is within all things and is in all places "taking on many different forms." Evolution is an upward trending spiral. Since energy is always moving, it is either evolving upward, devolving downward, or stagnant. When we are not growing we are dying. Quite simply we are designed to evolve. We have more authorship of our evolutionary process when we consciously call it into our awareness. Through this work, we will begin to recall our prior existences, call back pieces of our Self, understand patterns and cycles in our personal history, all as well as the patterns and history of all humanity. As this awareness grows and expands it will begin to inform our lives, assist with decision-making, and thereby optimize our true potential. Energy and evolution informs all of creation and supports the expansion of consciousness. Growth begets growth just as success breeds success or money grows into more money. How can we participate in the expansion of our unique energy? I invite you to join me on the boundless journey toward your whole potential.
Reignite your fearless passion engaging with life. Align with your individual energetic blueprint. Get into the flow. Become magnetic to potential, people and possibilities.
Become a conscious communicator, develop stronger relationships, and learn to lead by example.

Always be prepared for what life has to offer, get in front of challenges by developing a strategy and clear path forward.
Build a strong connection to your higher power, tap into divine energy, and live your life fully engaged.
"Honestly working with Amy has been life changing in many ways! I have Amy to thank for helping save my marriage, and restoring my relationship with my wife. She has taught me how to be the best person I can be for myself and my family. She has helped me tremendously with my communication skills, and using my voice to be heard loud and clearly as I should. We've created a steady daily routine, which was much needed for me in life. The way I value my self worth is much different since working with Amy. Most importantly she's become a part of our family, and we absolutely love her!"
EDWIN JACKSON
PROFESSIONAL ATHLETE & MLB PITCHER
"There are no words to describe Amy, what she does, how she does it or the impact she has had on every facet of my life. I began working with Amy just before my husband died. She was instrumental in my healing and coping with the tragedy that rocked my entire world. Since then, I have worked with Amy on everything from my personal life, professional life and my inner dialogue. It has transfused its way into my relationships, family lineage, patterns, habits, communication, into all of the lives that I touch and have yet to influence. She has helped me realize who I am becoming, really who I've always been but needed someone to show me. My dreams are bigger than they've ever been because I have her support, her guidance and an honest listener. She challenges me and keeps me accountable. All of this is just the tip of the iceberg. Amy is magic, she incorporates so many layers into her coaching and she is forever learning which keeps her prepared for anything that I may encounter and come to her for. Not only is she highly qualified as a coach, she learns the hidden and alternative ways to help people. From the first conversation I ever had with Amy, I know she saw who I would become and how she would be instrumental in my success.
Because of Amy, I have nearly tripled my business, went from 3 helicopters to 8, made it through the death of my husband, the pandemic, challenge after challenge and all the while grown as a loving human, as a business owner and as an inspiration for others. I am so proud to call Amy a friend after working with her for so many years."
HEATHER HOWLEY
CEO 
"As a result of working with Amy, I've experienced greater levels of peace, calm, and contentment emotionally. These attributes allow me to be at my best personally and professionally. Equally, my wife has experienced strong results by gaining confidence in fearful areas she had grown to accept as a "normal" part of her life. She is now doing things with confidence that she never thought she could do!"
CHRIS SINGLETON
FORMER PROFESSIONAL ATHLETE AND NATIONAL SPORTS BROADCASTER
"Amy is the real deal. She is very passionate about helping others achieve their goals and maximize their full potential. She is an extremely great listener and does a really good job of ensuring that her clients get her absolute best. I really enjoy working with her and she has helped take me not only take my game to another level but she has also helped me take my personal life to another level."
QUINTIN DEMPS
PROFESSIONAL ATHLETE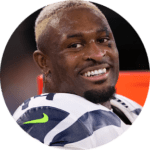 "The work that I've done with Amy has helped me unlock things I always felt I could do but never had the courage to actually do myself. I've learned how to manifest things coming in my life, I've also learned to build boundaries to that I'm always happy and in charge of my own destiny. "
DK Metcalf
NFL WIDE RECEIVER, ACTOR
"Prior to this work, I felt like I was in a really confused place in my life. After our first call together I knew this was the work I needed. I came to Amy to unlearn patterns and better myself. My desire is to become the best version of who I was meant to be in this lifetime. And through this work I have been able to regulate my emotions which enables me to be open and learn how to have an understanding of who I really am.
Thank you Amy for all you've done for me! With this work I've been able to step into my power. You've changed my life in such a big way.
"
Giuliana Rizzotti
Model, Entrepreneur, Fitness Trainer
What is bio-energetic work?
Bio-Energetic treatment creates a natural balancing of nerve function and communication between the Conscious and Subconscious divisions of the Central Nervous System.  It is a gentle, painless, non-forceful methodology of promoting wellness. Bio-Energetics addresses the cause instead of the symptoms exhibited in the individual. Then, quickly the process allows for the body to return to its natural state of emotional, mental, physical, spiritual health.
Will I feel the energy work?
This is up to you. Many do feel a soft movement of energy running through the body or things literally shifting in the body.
How will I know it is working?
Your life will be different in every way. The problems you previously experienced don't become as apparent.
How will you help me?
I use many different ancient techniques backed by a case study or scientific method to accelerate your healing. 
Some of these are bio-energetic techniques, behavioral psychology to help you clear the clutter, chaos, and confusion from your life and decision making so it becomes easier to distillation.
How do I pay for a single healing session?
Go to the paypal link and pay for the session you will be then rerouted to the calendar system and choose the best time for you.
What happens during a healing session?
This really depends on what you are bringing to the session. Please create a few intentions and send them 24 hours prior to the session, this will help to focus our session. We will begin by looking at any connections, attachments, distractions to clear first then move into your intentions. I will use an energy technique called the body code and a few others to read your subconscious and begin to delete the files that are ready to be cleared so that you can live fully engaged and more connected to the life you really want to live. This method expedites your healing.
Can I take a level three program before completing level one?
Typically, no. There is a consecutive order to these programs. They are meant to take in order for the best results. I would consider making a special exception to those who have worked with me privately and were proficient in the tools in program 1, 2, and 3.