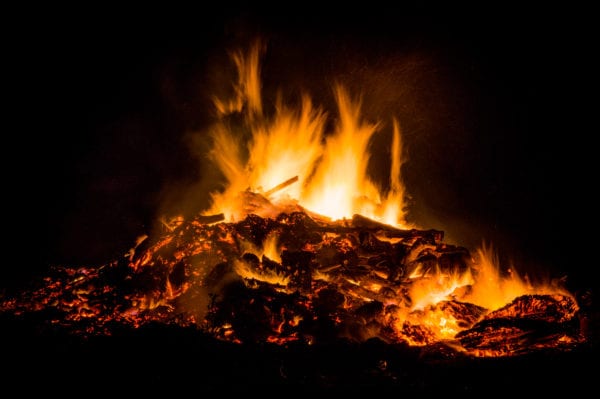 Bridges are constructed to make connections. We make connections every day in our professional and private lives. As long as the beams and foundation of those bridges remain intact, we remain comfortable as we travel them daily.  We grow to trust them. They're familiar, thus we feel safe leaving them as they are.
When those proverbial bridges begin to break down or destabilize, they threaten our mental and emotional safety. We can clearly see the danger. We recognize it, and we know we must make a decision. Often times when making decisions, we become mired in the bog of indecision, unable to move forward. The larger the decision, the harder it is for us to put our car into drive. We're parked on a bridge that's failing us. Or we're at the onset of a new road, and unable to select a path. Many of life's natural situations can create this huge indecision: marriage, relocation, promotion.
Dan Caldwell, the co-founder and president of TapouT, said, "Burn the bridges behind you." Once the bridge is burned, even if it is rebuilt, it's never the same. While this may sound like a negative, it is in fact, an act of commitment. Think about how fully that speaks to your commitment once you've burned the bridge of the past interactions and entanglements.
Now you're dedicated to the new path presented before you. That means you're positioned to be the best. It means being the first on the field, the court, or in the cubicle, and the last to leave. By leaving those bridges behind, we build relationships, sometimes from existing ones and sometimes from new ones. We may need those new bridges to last a lifetime, like in marriage, or for the duration of a career. Regardless, we must possess the mental flexibility and the courage to pursue new goals and new paths fully. Practicing this art of burning bridges to create full commitment will manifest what we desire.
We discover new relationships and opportunities by being strategic. We must also be open to receiving them when they become available and patient when they are not. Mental flexibility begins when we make time. When we let go of our physical fears and frustrations, we can see the path, the one we've chosen, more clearly. Once we acknowledge that we are more than our material possessions, we expand into something greater. A practice of meditation and reflection can guide us to this place.
Dan Caldwell's philosophy is what he calls, "No Plan B." The idea is you attack your life without the idea of a safety net and burning the bridges behind you. By doing so, you are dedicated to the path or choice you've selected. Whether that be entrepreneurship or walking down the aisle, you are committed to seeing it through. In his words, "It doesn't matter what your past was, your future is what you want to be."
In reading this blog, does it make you think of your next journey? Find clarity and the ability to connect and commit by reaching out to me, AmyD, the Peak Performance Expert and Trainer.